The REDEMPTION Expungement program includes efforts aimed to clear records of criminal convictions for non-violent or low-level offenders who have shown positive rehabilitation. Efforts to reach this goal are a vital piece of the Albany County District Attorney's Office "Clean Slate" model. The word "expungement" itself means to "erase or remove completely."
In October 2017, new sealing statutes under New York State CPL § 160.59 are taking effect to seal certain past criminal convictions so that potential employers and others cannot access them. If you meet eligible criteria, you may be able to seal up to two past criminal transactions, including up to one felony criminal transaction. A criminal transaction may include more than one criminal conviction, if the convictions are closely related in time or purpose.
If you are unsure whether your crimes of conviction constitute one criminal transaction, please consult a qualified attorney.
What is eligible?
Misdemeanor convictions, with the exception of sex crimes, are eligible. Most drug crimes are eligible. Unsure if a crime has been deemed an eligible offense?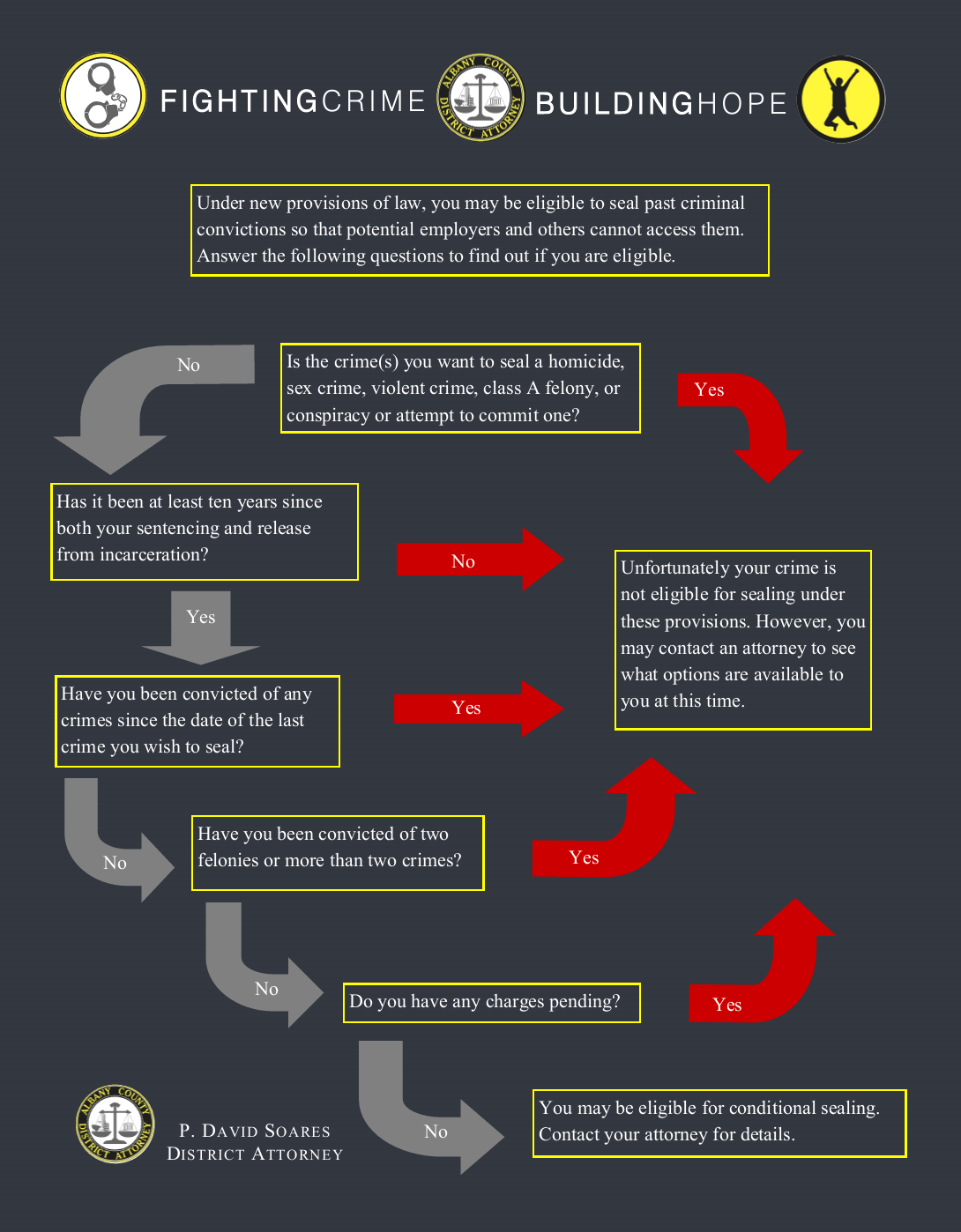 Not all crimes are eligible for sealing. The following crimes are not eligible under the statute:
1) Any sex offense defined in Article 130 of the Penal Law (see Appendix A);
2) Offenses related to sexual performance by a child defined in Penal Law Art. 263 (see Appendix B);
3) Murder and Homicide related felonies defined in Penal Law Art. 125 (see Appendix C);
4) Violent Felony Offenses as defined in Penal Law § 70.02 (see Appendix D);
5) Any class A felony (see Appendix E);
6) Conspiracy to commit an ineligible offense, per Penal Law Art. 105;
7) An attempt to commit an ineligible offense, but only if the attempt is a felony;
8) A registerable sex offense under Correction Law Article six-C (see Appendix F).
How Do I Apply?
The New York State Office of Court Administration has added application forms to their website which can be accessed HERE. Please consult with a licensed attorney for legal advice and counsel if you have questions about your rights and the process to apply for the sealing of a criminal record.
For other situations in addition to the newly enacted statutes, the Office of the Albany County District Attorney will continue to work on individual cases in the interest of justice to "expunge" a record through CPL § 440.10.
Want to get involved?
We are seeking assistance from those in the legal profession who may be able to offer free or low-cost services to those seeking relief under the existing 440 Statute or to assist clients with the newly enacted CPL § 160.59 sealing provisions.
Do you work for an agency that is willing to partner with our office in helping redeem the lives of ex-offenders who are seeking a "Clean Slate?" Contact us today!
*Please note that this information does not constitute legal advice. Please contact a licensed attorney for information about your rights.*